Find the fastest fibre broadband in your area
Compare the cheapest deals, prices and latest offers
Best fibre broadband deals for November 2017
Package
Broadband
Calls
Offer
Cost
More
Details
Plusnet Fibre Unlimited


up to

38Mb

speed




Unlimited

downloads

PAYG




calls

£22.99 p/m




18 month contract


Total contract cost

£413.82

Check
Virgin Media VIVID 50


up to

50Mb

speed




Unlimited

downloads

No Phone Line

£27 p/m




12 month contract


Total contract cost

£344

Check
BT Infinity Unlimited & Calls


up to

52Mb

speed




Unlimited

downloads

Weekend




calls

Ends 27 Nov

£29.99 p/m




18 month contract


Total contract cost

£549.81

Check
TalkTalk Faster Fibre


up to

38Mb

speed




Unlimited

downloads

PAYG




calls

£27.50 p/m




18 month contract


Total contract cost

£495

Check
Origin Broadband


up to

38Mb

speed




Unlimited

downloads

PAYG




calls

Save 15%

£23.61 p/m




18 month contract


Total contract cost

£424.99

Check
Virgin Media VIVID 50 & Calls


up to

50Mb

speed




Unlimited

downloads

Weekend




calls

£29 p/m




12 month contract


Total contract cost

£348

Check
EE Fibre & Calls


up to

38Mb

speed




Unlimited

downloads

PAYG




calls

£29 p/m




18 month contract


Total contract cost

£522

Check
Virgin Media VIVID 100 & Calls


up to

100Mb

speed




Unlimited

downloads

Weekend




calls

£34 p/m




12 month contract


Total contract cost

£428

Check
Post Office Fibre


up to

 

38Mb

speed




Unlimited

downloads

Weekend




calls

£28 p/m




18 month contract


Total contract cost:

£534

Check
Sky Fibre

up to

38Mb

speed


25GB p/m

PAYG




calls

£20 p/m




18 month contract


Total contract cost

£389.95

Check
Plusnet Fibre Unlimited Extra


up to

 

76Mb

speed




Unlimited

downloads

PAYG




calls

£29.99 p/m




18 month contract


Total contract cost

£564.82

Check
TalkTalk Faster Fibre upto 76Mb


up to

76Mb

speed




Unlimited

downloads

PAYG




calls

£30 p/m




18 month contract


Total contract cost

£540

Check
Fibre Broadband & Calls


up to

 

38Mb

speed




Unlimited

downloads

Evening & weekend




calls

£27.50 p/m




12 month contract


Total contract cost:

£330

Check
BT Infinity 2 & Calls


up to

76Mb

speed




Unlimited

downloads

Weekend




calls

Ends 27 Nov

£39.99 p/m




18 month contract


Total contract cost

£729.81

Check
Sky Fibre Unlimited


up to

38Mb

speed




Unlimited

downloads

PAYG




calls

£25 p/m




18 month contract


Total contract cost

£479.95

Check
Virgin Media VIVID 200 & Calls


up to

 

200Mb

speed




Unlimited

downloads

Weekend




calls

£39 p/m




12 month contract


Total contract cost

£488

Check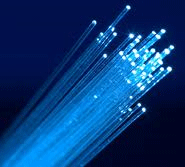 Despite the expensive monthly plans and additional initial cost, fibre optic broadband sees increase in uptake by homes and businesses due to the promise of its faster speeds and reliable connectivity.
Compared to ADSL 2+ copper lines which offer maximum speeds of up to 17Mbps, fibre broadband can offer 5 – 8 times faster speeds and also ensures that you can get speeds much closer to the advertised speeds.
With the currently available 38Mbps/76Mbps/100Mbps/200Mbps over fibre lines, you can enjoy real-time, bandwidth-rich applications like IPTV and online gaming much better.
Fibre Broadband Availability
However, you can get fibre broadband only in those areas which are served by exchanges where the new technology is deployed and from the providers that offer the new service. With major ISPs BT, Plusnet, TalkTalk, Sky and virgin Media offering various fibre packages, you can find them along with latest price details using this postcode checker.
Fibre broadband now covers 15 million UK premises via BT's fibre to the cabinet (fttc) network. Virgin Media's fibre based, cable network separately covers 13 million UK homes. We also have small operators which offer location-specific fibre broadband in the UK. By 2016, more than 90% of properties in the UK will be able to access fibre optic broadband, with government sponsored rollouts setting to extend the coverage to rural and remote areas. By 2020, all exchanges in the UK are expected to be upgraded to fibre optic technology.
Fibre optic broadband explained
Fibre broadband uses the next generation technology of connecting homes to exchanges with fibre optic cables which are ideal for faster transmission of data over long distances.Due to the expensive nature of the technology, service providers often use fibre optic cables only up to street cabinets from where the connections come to homes via copper wires. This type of installation is called Fibre to the Cabinet (FTTC) which is mostly used for residential connections in the UK. You can get maxium download speed of 80Mbps and upload speed of 20Mbps over FTTC lines.
Both BT and Virgin Media use FTTC, however, Virgin cable broadband uses coaxial cable between the cabinet and homes, instead of copper which BT uses. The better quality of coaxial enables Virgin Media to deliver faster speeds than what BT offers over its FTTC lines.
The second type, Fibre to the Home / Premises (FTTH or FTTP) use fibre for the entire installation of the line, right from the exchange up to the users' premises. BT's FTTP service which is currently available in selected areas offer download speed of 100Mbps/110mbps/330Mbps. The service also requires you to pay one-off installation fee.
Fibre Optic Broadband Vs ADSL Broadband
Maximum speed that you can theoretically expect from fibre broadband is 1Gbps or 1000Mbps or even more. However, headline speed over ADSL broadband lines is limited to just 24Mbps which can reduce to 7 to 10Mbps at homes as the speeds of copper networks (ADSL) generally degrade with the distance between users and the exchange. Distance, the quality of wire, number of users and interference have biggest impacts on ADSL which becomes unreliable at times, at some locations.
Fibre broadband is not affected by these factors so its headline speeds, whether 30Mbps or 76Mbps or 100Mbps, only marginally decrease at the premises. Upstream traffic over fibre optic lines is also 15 times+ faster when compared to upload speeds via standard, ADSL 2+ lines.
Package
Advertised speed
Actual Speed
(average during 24 hours)
BT up to 38Mbps
up to 38Mbps
34.4Mbps
Plusnet up to 38Mbps
up to 38Mbps
34.2Mbps
Sky up to 38Mbps
up to 38Mbps
36.4Mbps
EE up to 38Mbps
up to 38Mbps
31.5Mbps
Virgin Media up to 50Mbps
up to 50Mbps
53.3Mbps
BT up to 76Mbps
up to 76Mbps
63.1Mbps
Plusnet up to 76Mbps
up to 76Mbps
60.5Mbps
Virgin Media up to 100Mbps
up to 100Mbps
99.5Mbps
Virgin Media up to 152Mbps
up to 152Mbps
135.8Mbps
This ensures the reliability of fibre broadband while its five times faster speeds also decrease the download time of files, music tracks and DVD films in the same ratio.
Fibre broadband is better option when your internet activities include watching online videos & TV shows, downloading large files and playing online games. It is ideal to have fibre connection rather than ADSL at your home when there is heavy use of internet or multiple users go online simultaneously.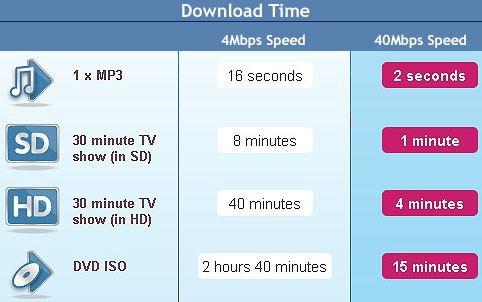 You can search all the fibre optic broadband deals available in your area, using UK postcode checker.