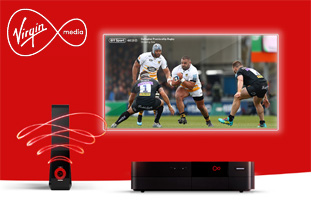 Being the fastest, widely available fibre broadband provider, Virgin Media also stands out as the most reliable broadband, home phone and TV provider in the UK.
All Virgin Media broadband packages (54Mbps, 108Mbps, 213Mbps and 362Mbps) including the starter level plan – M50 fibre broadband,  are tweaked by its latest fibre technology for even better performance.
Latest Virgin Media deals

108Mb
average speed
Unlimited
downloads
Weekend calls

Offer:
Cost:
£33 p/m
More Info

54Mb
average speed
Unlimited
downloads
Weekend 
calls
110 TV channels
Offer:
Cost:
£33 p/m
More Info

213Mb
average speed
Unlimited
downloads
Weekend calls
240 TV channels

Offer:
Special price
Cost:
£45 p/m
More Info
Reasons to choose Virgin Media broadband
You get some of the fastest speeds available for the UK households, from 54Mbps to 362Mbps (user average speed). If you plan to stream HD videos or play online games, faster packages are ideal for your usage.
All Virgin Media broadband plans come with unlimited downloads so you can be just unconcerned about data usage, when you make files download or watch HD video contents online.
Virgin Media broadband deals – including dual and triple play packages come with both 12 month and 1 month rolling contracts.  This option would help customers pick the deal which are flexible to their needs.
For students, Virgin Media offers special packages which are subject to 9 month contract length.
Broadband only plans are also available so users with specific needs such as students can take up broadband with no line rental.
Virgin Media Super Hub 3 wireless router which is included with packages is designed to offer fast reliable speeds & connectivity in home environment. It comes with 4 gigabit connections, 5 internal antennas, dual wifi frequencies and WEP/WPA/WPA2 wireless security protection.
Web Safe online protection is offered free with Virgin Media broadband. Users can optionally enable it to protect their family from unsafe or inappropriate online content by blocking such sites. F-Secure SAFE is additional protection for devices from viruses, malware and online threats.
Virgin Media WiFi is free for its customers via its hotspots and in stations on the London Underground.
Virgin Media broadband speeds
Virgin Media's popular  broadband and phone package – M100 Fibre (108Mbps average speed) is more than two times faster than UK average (106Mbps during peak times as reported by Ofcom in May 2019) broadband speeds measured by Ofcom speed survey during November 2018.
So, even the basic and cheapest packages from Virgin Media ensure that you get better user experience when you make downloads or stream or watch videos and TV online.
However, faster speeds (213Mbps and 362Mbps average speeds) that Virgin Media offers with top-end packages are ideal for watching high definition (HD) videos online, playing the latest games and for families with multiple users who access internet simultaneously.
You can download a DVD movie in less than 3 minutes using Virgin's 213Mbps connection.
Can I get Virgin Media fibre optic broadband in my area?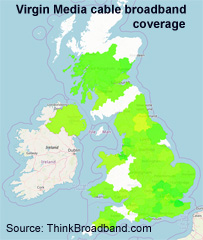 Yes, if you in areas which are covered by Virgin Media's DOCSIS 3.0 cable network. Currently, Virgin Media covers only 60% of the UK, mainly cities and towns across the UK. Using our postcode checker, you can find whether Virgin Media fibre broadband packages are available in your area.
Virgin Media Broadband
You get only superfast fibre broadband, when you go for its broadband & phone bundles. Speeds are so classed in such a way that every kind of user can find the right speed.
M50 fibre (previously, VIVID 50) offers average 54Mb download speed. M100 fibre broadband (earlier, VIVID 100) offers an average 108Mb speed. Want ultra-fast speeds? Pick  M200 (213Mb average speed) or M350 (362Mb average speed).
All dual packages include free, unlimited weekend calls to UK landlines & 0870 numbers and free calls to Virgin Mobile numbers.
Virgin Media Broadband, phone and TV
Virgin Media offers a range of broadband, phone and TV as bundled packages – Big bundle, Bigger bundle and  Ultimate Oomph bundle. Each bundle varies from each other, when it comes speed, number of channels and most importantly, pricing.
All Virgin Media TV & broadband bundles come with the latest Virgin TV V6 box which can record 6 shows while watching live TV and can record 500 hours of shows in SD or 100 in HD using its 1TB storage. V6 box also allows you to search all your Catch Up and on demand content using its smart remote feature.
The top-end Ultimate Oomph bundle includes two V6 boxes so you can use one of them in another room too.
Along with usual catch up feature, total number of channels on TV bundles vary between 100 and 300. Number of premium and HD channels included with bundles do vary with bundles. You can add Sky Sports, BT Sport and Sky Cinema  channels too.
Virgin Phone is added to bundles so so you can get free weekend calls to UK landlines. Options to save your line rental or add anytime calls or mobile calls or international calls are also available.
Virgin Media broadband only packages without line rental
This option enables customers who live in Virgin's cable network areas to get  broadband without phone line and line rental.
You can enjoy top speeds from 54Mbps to 362Mbps, depending on your chosen package, though installation fee applies to all Virgin Media stand-alone broadband packages.
Virgin Media Student broadband
For university students who need broadband only during term-time, Virgin Media offers 9 month contracts on a range of packages including broadband only, broadband & phone and broadband & TV deals.Read our Virgin Media student broadband packages to find out more about the latest offers.
How to switch to Virgin Media cable broadband?
After you sign up with Virgin Media, you will be informed over installation date.
Contact your current provider and cancel the existing service which would run till the end of notice period (up to 1 month).
Meantime, your broadband will get installed at your premise. You can opt for QuickStart Self Install or Engineer installation which might take a few hours