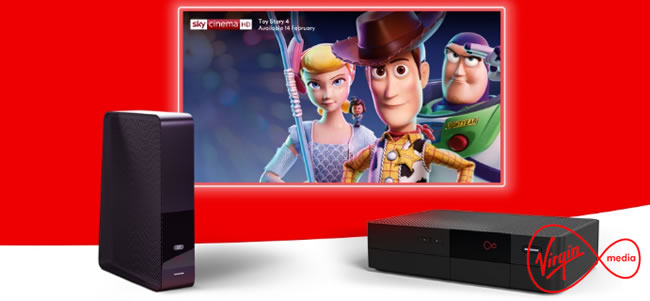 Overview of Virgin Media broadband and TV
Virgin media fibre broadband plans come with superfast, ultrafast and gigabit speeds
All Virgin Media packages include free Virgin Media Hub 3 router (Hub 4 is available for upgrade)
Phone bundles include free weekend UK calls.
Virgin Media offers tailored, triple-play and quad-play bundles (broadband + calls + TV + Mobile SIM)
Standalone broadband plans (No phone line) are also available.
Virgin TV comes with Virgin TV 360 box and Mini boxes built with cutting edge technology
Virgin Media bundles come with easy customisation and 18 month & 1 month contracts
Virgin Media broadband packages

How do you get Virgin Media broadband? There are four ways:
Virgin Media broadband and phone – Includes Talk Weekends
Virgin Media TV, broadband and phone – Includes Talk Weekends and TV packs 
Virgin Media TV, broadband, phone and SIM –  Includes Talk Weekends, TV packs and 5G O2 Mobile SIM
Virgin Media broadband only – Just broadband without Virgin Phone line.
Our top picks from Virgin Media Broadband this month

M100 Broadband
108Mb average speed
Unlimited downloads
Weekend calls 
Cost: £28 p/m
More Info

Big Bundle 
54Mb average speed
Unlimited downloads
Weekend calls
110 TV channels 
Cost: £33 p/m
More Info

Bigger Bundle + Movies 
213Mb average speed
Unlimited downloads
190 TV channels 
Offer: £200 bill credit
Cost: £62 p/m
More Info
Virgin Media TV and Broadband
Virgin Media offers a range of broadband, phone and TV packages. In addition, Oomph bundles include a mobile SIM.
Offer:

Free setup with TV & broadband bundles for a limited time.
Virgin Media TV offers two basic packages – Mixit TV and Maxit TV which you can get as bundle with broadband. You can further build the bundle by adding premium channels such as Sky Cinema, BT Sport and Sky Sports.
Mixit TV includes 110+ TV channels (freeview) and free to air channels such as ITV, BBC and C4.
Maxit TV includes 190+ channels. In addition to freeview channels, premium channels such as BT Sport, Sky Witness and Sky One are included.
Only Ultimate Oomph bundle is the complete mix of the fastest broadband (630Mbps), anytime calls and all TV channels (230+) and unlimited 5G mobile SIM.
Virgin media 360 Box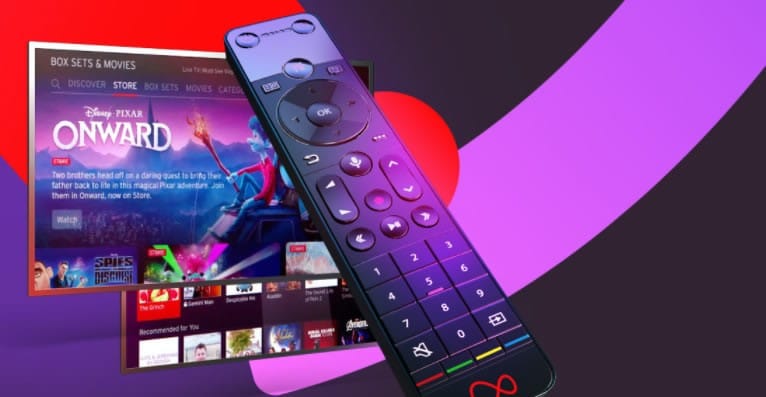 All Virgin Media TV & broadband bundles come with the latest Virgin TV 360 box which can record 6 shows while watching live TV and can record 500 hours of shows in SD or 100 in HD using its 1TB storage.
Virgin TV 360 box also allows you to search all your Catch Up and on demand content using its smart remote feature.
You can add up to 2 Mini boxes so you can watch TV channels in another room too.
Here is the list of Virgin Media triple-play and quad-play bundles:
Virgin Media Broadband Speeds
Virgin Media offers six broadband plans with different speeds in a range from 54 Mbps to 1130 Mbps (user average speed).
In addition, Virgin Media also offers a gigabit plan – Gig1 broadband which delivers average download speed of 1130Mbps is not available in all Virgin Media cable areas.
Here is the list of advertised broadband speeds of the plans. By average speeds, it's meant that 50% of the customers can get these speeds..
| Plan | Download speed | Upload speed |
| --- | --- | --- |
| M50 | 54Mbps | 5Mbps |
| M100 | 108Mbps | 10Mbps |
| M200 | 213Mbps | 20Mbps |
| M350 | 362Mbps | 36Mbps |
| M500 | 516Mbps | 36Mbps |
| M600 | 630Mbps | 41Mbps |
| Gig1 | 1130Mbps | 52Mbps |
Virgin Media also provides estimated speed range and minimum guaranteed download speed for each plan albeit these are approximate figures only.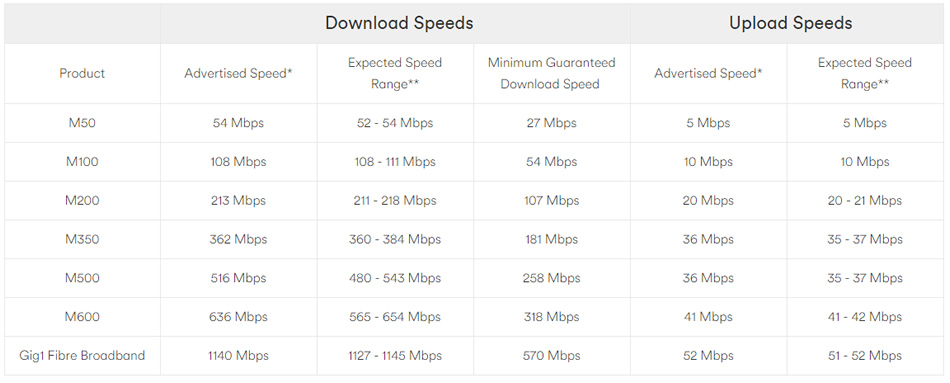 However, when you provide your location details like postcode and address during sign up, Virgin Media lets you know more accurate speed estimate and minimum guaranteed speeds for your line.
Virgin Media Home Phone
Virgin Media broadband and phone bundles include landline service with inclusive Talk Weekends which means you can make calls to UK landlines, 0845 and 0870 numbers and any UK mobile numbers during weekends.
Likewise, Virgin Media Big bundles (TV, broadband and phone) come with home phone and inclusive call plans.
Big bundle and Bigger bundle include Talk Weekends as standard while Ultimate Volt bundle includes Anytime calls to UK landlines, mobiles and 0845/0870 numbers.
Alternatively, you can add anytime calls during sign up or at any time.
Home Phone Calls
Packages
(Included as standard)
Talk Weekend
M50, M100, M200, M350,M500
Big bundle, Bigger bundle
Talk More Anytime
Ultimate Oomph bundle
Virgin Media Volt bundles
When compared to regular bundles, Volt bundles offers following features:
Faster speeds (free speed boost)
Includes O2 mobile SIM with 10GB mobile data, unlimited mins and texts
Free mobile data during broadband outages
When you upgrade from regular bundle to Volt bundle, you need to pay extra.
Virgin Media broadband only
Virgin Media broadband only plans come without TV and Virgin phone line.
Although, you can get all the Virgin Media broadband deals as broadband only, the pricing of broadband only plans is usually on higher side, when compared to broadband and phone bundles.
So, it is recommended to go with standalone plans only after checking the total cost and comparing it with the cost of bundles.
Features
Totally unlimited
All Virgin Media broadband plans come with truly unlimited usage so you are not restricted by any data caps or traffic management during peak times.
Free WiFi router
Virgin Media Hub 3 wireless router is included with all broadband packages. Powered by Intelligent WiFi technology, Hub 3 is designed to offer reliable and faster speeds to all connected devices.
Hub 3 comes with 4 gigabit connections, 5 internal antennas, dual wifi frequencies and WEP/WPA/WPA2 wireless security protection.
Short-term contracts
Virgin Media broadband deals – including dual and triple play packages come with standard 18 month and 1 month rolling contracts.
Virgin Media Student Broadband
For students, Virgin Media offers exclusive packages which are subject to 9 month contract length.
Free extras
Free Web Safe online protection is provided with Virgin Media broadband.
You can block inappropriate, malicious and unwanted websites content by managing the settings.
F-Secure SAFE is an additional protection for devices from viruses, malware and other online threats.
Virgin Media WiFi is free for its customers.
Virgin Media can register up to 6 devices and access free WiFi in popular locations including stations on the London Underground.
About Virgin Media
Virgin Media is unarguably the fastest broadband service available to more homes in the UK than any other provider.
Its cable based (DOCSIS 3.0) ultrafast broadband network which delivers speeds from 50Mbps to 1Gbps can now reach 54% of the UK or more than 13 million homes in the UK.
Virgin Media is also a leading provider of digital TV service which comes with hi-tech Virgin TV 360 set-top box and lots of premium TV channels of various categories.
The prominent feature of Virgin Media is the option of getting ultrafast broadband, home phone and TV together from a wide range of bundles. Alternatively, you can just build your own bundle with your choice of speeds and TV channels.
Virgin Media also includes Mobile SIM when you choose Volt bundles which come with some extra features such as speed boost and premium support.
Switching to Virgin Media
After you sign up with Virgin Media, you will be informed over installation date.
Contact your current provider and cancel the existing service which would run till the end of notice period (up to 1 month).
Meantime, your broadband will get installed at your premise. You can opt for QuickStart Self Install or Engineer installation which might take a few hours
Virgin Media Reviews