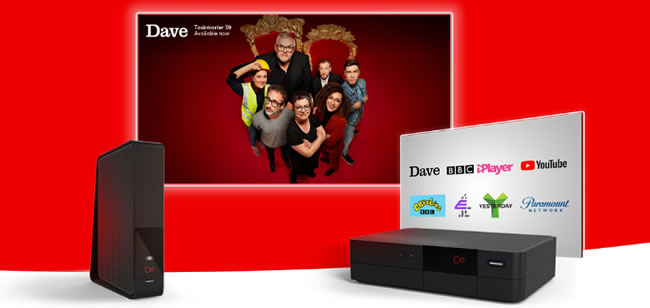 Big bundle (previously, Player bundle) is the cheapest triple-play package from Virgin Media and the package includes M50 fibre broadband (54Mbps average download speed and 5Mbps upload speed), Talk Weekend and Mixit TV pack with 4K ultra-HD Virgin TV 360 box
Talk Weekend allows you to make free weekend calls to UK landlines & specific numbers while Mixit TV includes 100+ digital TV channels including some HD channels.
Plus, you can add Virgin Mobile 4G SIM at competitive pricing, though, it is optional.
Virgin Media Big Bundle Deal
Average speed


54 Mbits/s download
10 Mbits/s upload
Virgin Media Super Hub 3.0
Unlimited broadband
£35 setup cost
Weekend calls
18 month contract
110 TV channels

Offer

:

Price:

£33 a month for 18 months
Features
Superfast download speeds & truly unlimited usage
Big bundle comes with M50 fibre broadband which not only offers faster speeds (54Mbps average speed), when compared to the basic, high-speed FTTC packages (38Mbps) that BT and Sky offer, it also comes with truly unlimited usage with no slow down during peak times (8-10pm).
M50 fibre plan is ideal for homes that have 2-5 users who need to go online on multiple devices at the same time.
Virgin Media Hub 3.0
Virgin Media Super Hub 3.0 is a dual-band wireless router, specifically designed to share cable based, fibre optic broadband in home environment. It comes with the latest Intelligent WiFi technology that ensures you get strong WiFi signal, faster speeds, wider wireless range and secured connection in the home.
Mixit TV and Virgin TV 360 box
Big bundle now includes the 4K enabled Virgin TV 360 box which comes with 1TB storage, rewind and record features. You can record 6 shows at the same time, while watching a live show. Its huge storage capacity allows you to record 500 hours of SD videos or 100 hours of videos in HD.
You can also add a Mini box to watch TV on another screen in your home.
Mixit TV pack comes with 110+ digital TV channels which include HD channels and 13 premium channels such as BBC One, itv, 4,5, BBC News and Dave.
This package also provides access to Catch Up TV, popular online video players like BBC iPlayer, ITV, All 4, YouTube and Vevo and on demand videos.
Tallk Weekend calls to UK landlines
Inclusive Talk Weekend call plan allows you to make unlimited weekend calls to UK landlines, 0870 numbers and Virgin Mobile numbers.
Flexible contracts
Virgin Media Big bundle comes with 18 month contract as standard. However, you can also choose 30 days rolling contract which may include higher one-off upfront cost.
QuickStart Self Installation
QuickStart self-install option is available to existing Virgin Media customers. This would cost nothing, while Engineer assisted installation would cost from £40.
Free Extras
Free access to Virgin Media Public WiFi hotspots
Virgin Media broadband customers can get free access to Virgin Media WiFi service available on London Tube Stations.
Connect app and Virgin TV Go
The new Virgin Media Connect app allows your mobile to connect to Hub or Virgin Media Public hotspots. Likewise, you can watch TV channels and on demand videos on your mobile devices using Virgin TV Go app.