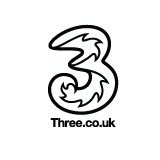 As a major mobile operator in the UK, Three covers 98% of UK population and offers reliable voice calling service and high speed mobile internet to millions of customers using its 3G and 4G networks.If you looking for fast broadband on the go, both its 3G and 4G plans are excellent options, although, you can use them seamlessly on your devices at most locations.
Quick Check
Three bundles a wide range of devices with their data plans – smartphones, dongles, iPad and tablets. You can just choose a device and data package on monthly tariff that suits your needs – this way you can get your smartphone or table free of cost. Or pay for the device cost and buy data upfront or buy PAYG data pack whenever you wish to use internet. If you already have a handset or iPad, just buy SIM from Three to use its 3G mobile broadband network. So, Three offers you various choices so you can find the one that exactly meets your requirements.
How 4G differs from 3G?
A typical 3G network can offer up to 7.2Mbps speeds and advanced 3G+ network can deliver 14.4Mbps. By comparison, 4G is many time faster as its speeds can go up to 40Mbps which makes 4G mobile broadband as a viable alternative to fixed broadband.
Do I need 4G for my mobile internet use?

No, the low-cost 3G connectivity can provide you decent real-world speeds so you can browse the net, watch videos or play games without any difficulty.
Moreover, Three's advanced 3G network (HSDPA+) which covers 80% of the UK can double the speeds.
However, 4G uses advanced technology like LTE which helps it deliver up to eight time faster speeds and more reliable connectivity during peak times over extended locations. No doubt, 4G offers better user experience especially when you watch high definition vidoes and play online games due to its superfast speeds and lower latency levels.
However, 3G has its own advantages. Currently 3G type of mobile broadband is extensively being used by many users due to its wider coverage, usability on various devices and low cost data plans.
Whereas, using 4G networks would include additional cost, as you you will need to use the latest 4G enabled smartphones, tablets and iPads which are upgraded to the new technology and they would generally cost much higher.
Moreover, 4G data plans are not as cheap as 3G plans and may cost you pretty high if you are a heavy mobile internet user, downloading videos, music and files regularly.
However, with Three, you can get 4G at no extra cost, when you buy its all-you-can-eat data packages.
Three Mobile broadband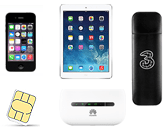 You can get Three mobile broadband on various devices including:
Smartphones
Smartphone option allows you to bundle the latest smartphones of the market such as Apple iPhone 6, Samsung Galaxy s6, Samsung Galaxy Note 4 or HTC Desire 620 with a data plan that suits your needs. You can choose from pay monthly plans or pay as you go price plans. Various data usage options are available – 500MB, 1GB, 2GB and all-you-can-eat data.
Tablets
If you wish to choose a tablet from, latest range of tablets are available – from Apple iPad Mini to iPad Air. You can choose from top android tablet brands including Acer, Samsung, Sony and Alcatel. You can use 3G and WiFi on most tablets with 4G compatibility is available on selected tablets. Some pay monthly plans do not require you to pay any upfront meaning you get the device absolutely free.
Dongles for laptops
If you want to access mobile broadband on laptop, Three offers both 3G (ZTE MF730M) and ZTE MF823 4G dongle and you can choose from pay monthly or pay as you go plans which are available on both 3G and 4G options. Dongles are a great way to accomplish all your internet activites that require larger screen of laptops and at any location without the need of WiFi.
MiFi to share mobile broadband on WiFi tablets and smartphones
Want to share mobile broadband on multiple devices? MiFi is ideal for that purpose, allowing you to connect up to ten devices to mobile broadband. Three offers Huawei E5330 Mobile Wi-Fi which can be used just like WiFi hotspot to connect up to 5 devices including tablet, smartphone or game console. You can choose from pay monthly plans or upfront packages that suit your needs and budget.
SIM only plans for your tablets/smartphones
There is no need to buy a device from Three, as the operator also offers a range of SIM only plans which come with pay monthly and upfront options. SIM only plans allow you get Three mobile broadband on your tablet or Apple iPad which you have purchased elsewhere. You can choose from one month rolling contract or pre-loaded data (up to 12GB) on pay as you go packages.