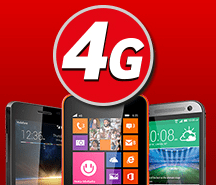 Vodafone is one of the major mobile networks in the UK with more than 90% 3G population coverage. UK's first and oldest mobile operator which dates back to 1985, it has 99% 2G coverage to offer the best voice call service to its 20 million customers in the UK.The company also offers LTE based, superfast 4G mobile broadband which covers around 70% of the population across the UK and its 4G coverage is expected to reach 98% of the population by 2017.
Quick Check
Check Vodafone Mobile UK Coverage (2G, 3G, 4G)
Mobile Phones (Smartphones, Apple iPhones, pay monthly, pay as you go)
Tablets, dongles and mobile WiFi (iPad, android tablets, 3G & 4G dongles, mobile WiFi)
Sim Only Plans & mobile bundles (pay as you go, pay monthly)
Vodafone Home Broadband (ADSL 2+, Fibre)
Vodafone also offers a simple range of broadband and home phone packages which its mobile customers can get with a discount of £5 a month. Broadband bundles include both ADSL and fibre with download speeds ranging between 17Mbps and 76Mbps. Existing Vodfone customers can add unlimited broadband for just £5 a month.
Vodafone Mobile
Vodafone offers an extensive range of pay monthly and pay as you go mobile plans with smartphones, dongles, mobile WiFi hotspots and SIMs. You can choose 3G or 4G, depending on your needs and coverage so you can go online when you are right and about. Plans and tarrifs are so flexible and budget friendly that you can pick a plan that is right for you. Unlimited data option is available for heavy users.
Vodafone 4G
4G is now over-taking 3G as the preferred mobile broadband as the users can get 3x faster speeds to download or upload big files instantly or stream HD videos from popular streaming sites Netflix, YouTube and Now TV without buffering.
Vodafone offers 4G Red plans or bundles which allow you to get a suitable plan with any number of mobile minutes, texts or GBs of data you wish. 4G plans with unlimited data, texts and minutes are also available.
Vodafone 3G
3G tariffs are less expensive and budget friendly and also let you enjoy more coverage when you are on the go. 3G mobile broadband is not as fast as 4G, still, you can enjoy watching videos, streaming TV or playing online games, as Vodafone has good indoor and outdoor 3G coverage in the UK.
There is an extensive range of mobile plans available with 3G data (from 100Mb to unlimited).
WiFi Calling
WiFi calling is a feature that Vodafone offers you to enable you make calls using WiFi in areas where mobile reception is not good enough or virtually non-existent.It is free to Pay monthly Red or Red Value Bundle, Red+ or Business Premier Vodafone customers. You need to use a compatible handset that can use this feature.
Sure Signal
Vodafone Sure Signal is like a mobile hotspot which enables mobile devices to access internet using your home broadband connection.
You can get Sure Signal box which you need to connect to a fixed line broadband connection to use this feature within the radius of 30 meters.
Vodafone Mobile Broadband
Mobile WiFi 4G
Model:

R216 4G enabled device
Up to 150Mbps speeds
Enables up to five WiFi devices to connect
2G, 3G,, Edge and GPRS support
Compatible with Mac
Mobile WiFi 3G
Model:

R207
Fast 3G speeds & improved performance
Enables up to five WiFi devices to connect
2G, Edge and GPRS support
4G Dongle
Model K1506 DCHSPA+
Up to 42Mbps speeds
2G, 3G,, Edge and GPRS support
Compatible with Mac
3G Dongle
Model K4203-Z
Fast 3G speeds
2G, Edge and GPRS support
Mac support