Compare Plusnet Deals and Offers
Plusnet Unlimited broadband


Offer:

 £50 Amazon Gift Card. Ends 24th April

Unlimited

 

usage




upto

 

17Mb

 

speed




PAYG

 

calls

£19.99 p/m




18 month contract


Total contract cost: £359.82
More Info
Plusnet Fibre Unlimited


Offer:

 Free fibre connection

Unlimited

 

usage




up to

 

38Mb

 

speed




PAYG

 calls


£23.99 p/m




12 month contract


Total contract cost £287.88
More Info
Plusnet Fibre Unlimited Extra 


Offer:

 Free fibre connection

Unlimited

 

usage




up to

 

76Mb

 

speed




PAYG

 

calls

£28.99 p/m




12 month contract


Total contract cost £347.88
More Info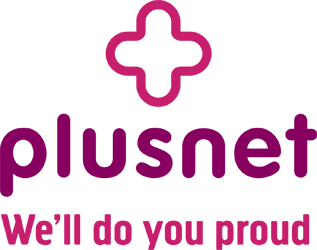 A leading player in the UK's competitive broadband and phone market, Plusnet enjoys great reputation as a service provider with many customer satisfaction awards to its credit.
A brand owned by BT, Plusnet offers products that have unique appeal to households which are looking out for affordable broadband with quality service.
The Yorkshire based supplier may not be offering broadband at unbeatable prices, which it boasted of a year ago, especially after the launch of cheap home phone bundles from its rivals TalkTalk and Fuel.
However, going beyond its cheap price tag, Plusnet offered something that made its customers happy – reliability, value for money and UK based customer support.
Plusnet Fibre broadband
Plusnet products include standard, ADSL 2+, upto 17Mbps service and superfast, fibre optic broadband.Fibre broadband products which Plusnet launched in 2012 is currently available to more than 13 million UK homes via BT's fibre networks.
The superfast fibre broadband service comes with standard, download speed of up to 38Mbps, while some areas are upgraded to get double this speed, ie.., 76Mbps.
Features
Broadband Options
Plusnet deals offer you the flexibility to take broadband with or without home phone.
Broadband and phone packages include free weekend calls, free activation, cheap line rental and discounts.
Broadband only packages are suitable for customers who want to get plusnet broadband, while staying with their existing home phone provider.
Unlimited data allowance
Whether you take standard or fibre service, all the packages include unlimited monthly download allowance.
Plusnet unlimited packages are not subject to any usage restrictions or traffic shaping, with only fair usage policy affecting the speeds of heavy users at peak times.
Line Rental inclusive All-in price
Plusnet line rental is now included in monthly price of the package
One month contract
One month contract that Plusnet offers along with the standard 12 or 18 month contract is suitable for subscribers who need a temporary connection to meet their needs.
The service can be cancelled at anytime after notifying the provider of your decision 10 days earlier.
However, these deals do not include free activation and wireless router as they will cost extra, when you take up short contracts.
For Plusnet fibre customers, the service agreement will have a contract length of 18 months.
Low cost packages
Plusnet broadband is subject to price variation depending on whether an exchange is in market 1 or market 2 & 3 area (low cost).
Cheaper monthly prices that Plusnet advertise apply only to low cost areas ie., market 2 & 3 areas which according to the ISP, include 85% of UK.
For users in market 1 areas, plusnet standard and fibre broadband package will cost an extra £7 a month.
UK based customer support
Along with a vast knowledge base of support guides, tutorials and FAQ, Plusnet offers 24/7 telephone help by a professional team based in the UK.
Home broadband customers can contact 0800 432 0200 or 0345 140 0200 for any assistance from the support team.
Extras
Plusnet Assist is a free help software for Plusnet customers to diagnose and fix problems related to PC, broadband connectivity, home and wireless networking.
Plusnet Protect is McAfee PC & internet security software that comes free with unlimited packages.
Plusnet Protect will be free for 3 months for Essentials customers and will cost £2 per month, after that.