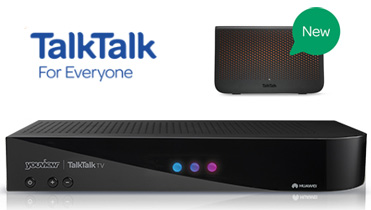 TalkTalk offers home phone service bundled with standard broadband or fibre broadband.
While most of TalkTalk broadband packages are line only, you can add TV, calls or upgrade to fibre with flexible add-ons which are known as boosts.
TalkTalk also offers exclusive TV deals to its broadband customers and has become a leading triple-play bundle provider in the UK market that was earlier dominated by BT, Virgin Media and Sky.
Latest TalkTalk deals

38Mb
average speed
Unlimited
downloads
PAYG 
calls
Offer:
Free setup
+
£75 voucher

(ends 27th Feb
 )
Cost:
£22.95 p/m
More Info

67Mb
average speed
Unlimited
downloads
PAYG 
calls
Offer:
Free setup
Cost:
£25.95 p/m
More Info

11Mb
average speed
Unlimited
downloads
PAYG 
calls
105 TV channels
Offer:
 Free setup
(ends soon )
Cost:
£29.95 p/m
More Info
Features
TalkTalk broadband and phone packages include unlimited downloads, superfast speeds and flexible add-ons like call plans and TV boosts
Superfast fibre broadband is available to new and upgrading customers.
Totally unlimited internet usage applies to all packages, means, there is no slow down at peak times.
Basic TalkTalk TV bundle includes YouView box for no extra cost.
TalkTalk TV Plus offers YouView+ TV box which comes with one-off setup cost.
Flexible 'boosts'  allow users to add specific call plans or popular channels like Sky Sports on a minimum 1 month contract.
Includes Homesafe parental controls and internet security
TalkTalk Broadband
TalkTalk offers a basic broadband option to users who look out for a simple plan with decent speeds and unlimited internet usage at budget price.
Fast broadband which offers an average download speed of 11Mbps is perfect for households with one or two users and for simple online activities like surfing and online shopping.
TalkTalk Fibre Broadband
TalkTalk fibre optic broadband offers two plans with truly unlimited usage – Faster fibre (38Mbps average download speed) and Superfast Fibre (67Mbps average download speed).
Faster Fibre is ideal for households with 4-5 users and for downloads and streaming TV shows in HD and playing online games.
Superfast Fibre offers faster speeds that would perfectly manage large houses with up to 10 users.
Fibre packages also include  the new WiFi Hub which can connect up to 50 users to WiFi at the same time without reducing speeds.
TalkTalk Home Phone
TalkTalk offers pay as you go calls as standard with line only broadband. This means you  pay only for the calls that you make.
However, you can add unlimited UK calls and mobile calls or international call plans at anytime. They are available separately as flexible boosts so you can cancel them at anytime with one month notice.
TalkTalk TV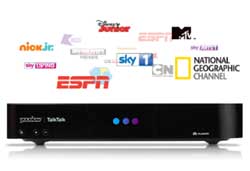 TalkTalk TV is the cheapest triple-play bundle for UK homes that actually pay more for such packages when taken from Sky, BT or Virgin Media.
TalkTalk TV was launched much later than its rivals, however, the service has become quite popular, thanks to the huge take up in the last two years and good customer satisfaction levels reported by the industry regulator Ofcom.
Like BT, TalkTalk TV uses YouView platform to offer its exclusive TV service with its broadband packages.
YouView also allows you to access catch up TV and on-demand players like iPlayer, ITV Player & All4.
With its two TV packages which offers limited TV channels, you can also watch premium channels like Sky Sports, BT Sport and Sky Cinema  by adding TV boosts that would cost extra.
TalkTalk TV bundles
TalkTalk offers two TV packs – TalkTalk TV and Plus TV. Their cost does vary, depending on whether it includes standard or fibre broadband.
TalkTalk TV includes free. pause & rewind YouView box and 80+ Freeview channels, including 15 HD channels.
With Plus TV, you get  YouView+  TV box which comes with an additional record feature which can record up to 185 hours of TV using its 300GB storage.
Boosts
Calls
Unlimited UK mobile & landline calls or international call plans can be added to your basic package
Internet security
You can subscribe for online security software that can be used to protect up to 8 devices
Fibre broadband upgrade
TalkTalk TV packages come with 11Mb Fast broadband as standard, however, you can take up Faster fibre (38Mb) or 67Mb Superfast Fibre at any time, by adding the boost.
TV boosts – extra channels you can add
You can add your favourite channels or just remove them every month.
Entertainment channels include Sky 1 & 2, Sky Living, Nat Geo Wild, MTV and more.
Kids TV boost include 200+ TV shows including the popular channels like CN, Disney on demand and Peppa Pig.
Sky Sports includes all Sky sports channels which allow you to watch F1, rugby, international cricket and foot ball events and all 4 golf majors.
Sky Cinema boost offers access to 11 Sky Cinema channels, 1000+ on demand movies and a new premiere every day.
Switching to TalkTalk
Switching from your current provider to TalkTalk is fairly easy. Just sign up with TalkTalk and no need to get MAC or contact your ISP. You would be probably switched to TalkTalk broadband in a couple of weeks, with no downtime.
If you are on Virgin Media cable broadband, you would need to cancel it, but, make sure that you would undergo minimum downtime.