Compare TalkTalk Deals and Offers
TalkTalk Fast broadband

Unlimited

 

usage




11Mb

 

average speed




PAYG

 

calls

£17 p/m




12 month contract


Total contract cost: £204
More Info

Offer:

 No setup fee
TalkTalk Faster fibre broadband

35Mb

 average speed


Unlimited 

usage


PAYG

 calls


£22.50 p/m




18 month contract


Total contract cost £435
More Info

Offer:

 Special price
TalkTalk Faster fibre with Speed Boost

Unlimited

 

usage




63Mb

 

average speed




PAYG

 

calls

£27.50 p/m




18 month contract


Total contract cost £525
More Info

Offer:

 Special price
TalkTalk TV with unlimited broadband + TV Select

Unlimited

 

usage




11Mb

 

average speed




PAYG

 calls


96

 TV channels


£25.95 p/m




12 month contract


Total contract cost £336.40
More Info

Offer:

 Youview box included
TalkTalk TV Plus with unlimited broadband + TV Select

Unlimited

 

usage




11Mb

 

average speed




PAYG

 calls
108 TV channels


£24 p/m




12 month contract


Total contract cost £313
More Info

Offer:

Youview+ box included
About TalkTalk
When it comes to offering cheap broadband and phone deals with great value for money, TalkTalk has been a trendsetter among its rivals and its free broadband package was first of its kind to be launched in the UK a few years ago.
A major landline provider in the UK, TalkTalk offers its homephone bundled with standard broadband or fibre broadband.Talk Talk added its own superfast fibre broadband and TV services only by the middle of 2012. However, the good response from its customers enabled the provider increase TalkTalk TV Plus (YouView) subscriptions three times in the fourth quarter of 2012. TalkTalk is now a leading triple-play service provider in a market that was earlier dominated by BT, Virgin Media and Sky.
TalkTalk fibre broadband is delivered via BT's FTTC network and has a coverage of more than 13 million homes in the UK. Both its Fibre Medium (up to 38Mbps) and Fibre Large (up to 76Mbps) can be added on top of its Essential or Plus packages. The add-ons and boosts are available to the customers who want to upgrade to faster internet plans or add unlimited calls/international calls.
New wireless router, YouView TV and HomeSafe internet security are great features that TalkTalk introduced in 2012.
Ratings for its customer service also improved significantly in 2012-2013 after the corrective measures the telecom firm has taken on the wake of incorrect billing issue in 2011.
Features
TalkTalk broadband and phone packages are competitively priced with unlimited broadband and calls can be added with boosts.
Superfast fibre broadband is available to new and upgrading customers.
TalkTalk TV Plus offers access to movies, TV channels and popular, on-demand channels & films via YouView platform.
Flexible 'boosts'  allow users to add specific call plans or popular channels like Sky Sports on a minimum 1 month contract.
Includes Homesafe parental controls and internet security
Coverage and Cost
Talk Talk offers low-cost broadband and phone deals from its unbundled exchanges from BT. Its network covers more than 94% of the UK population.
Fibre broadband is currently available for 13 million households.
All TalkTalk packages come with all in pricing, meaning, the monthly price includes line rental to help you identify the actual cost of the service without any difficulty.
Early termination charges
Customers who terminate their service before the expiry of contract, will need to pay for the months left on the contract. Thus, the cancellation charges for different TalkTalk customers will be calculated as follows:
Fast Broadband: monthly price multiplied by number of months left on the contract
TV bundles : monthly price x number of months left on the contract
Faster Fibre broadband:  Charges can be calculated in a similar way.
TalkTalk Fibre Broadband
The age-old, copper based standard broadband might not be the right solution for your household when multiple users need to go online, watch & stream HD videos or online TV shows and play bandwidth-intensive games.
With all major providers now offering a wide range of fibre broadband deals, you would search for the best package that ensures speed, reliability as well as great value for money.
TalkTalk fibre broadband which has extensive coverage over the UK, is also one of the lowest priced, superfast broadband options available for the UK homes. With affordable pricing range, it comes with simple range of packages which can be cusomised with call and TV boosts that come with flexible contract lengths.
What's more, you can add internet security and other features or buy or rent on-demand videos and movies from TalkTalk TV store at amazing pricing.
TalkTalk Fibre Broadband Packages
TalkTalk offers unlimited fibre broadband with options to choose speeds – 35Mbps or 63Mbps which are average speeds that half of the customers can get at peak time.  While 18 month contract is standard, you can also choose 12 or 24 months. Prices which are fixed for contract length, include line rental.
Whether you choose Faster fibre (35Mbps) or Faster fibre with Speed Boost, you get similar features like unlimited downloads, pay as you go calls, free Super Router and HomeSafe online security, except that the latter offers you  average download speed of 63Mbps.
According to Ofcom April 2017 report, TalkTalk offered average speed of 31-33Mbps against the advertised speed of 38Mbps while average speeds on TalkTalk 'up to' 76Mb broadband lines ranged between 51-56Mbps during the day.
Other features of TalkTalk Fibre Broadband plans
With TalkTalk fibre broadband, you can add more features like calls, speed upgrade and online security.
Easy to add or remove as you wish at anytime, these extras come with flexible terms.
You can add unlimited UK calls and mobile calls or international call plans at anytime. They are so flexible that you can cancel at anytime with one month notice.
If you are on faster fibre package, you can just upgrade it to 'up to' 76Mb without any hassle.
Likewise, you can enable online security for up to 8 devices with additional subscription.
TalkTalk TV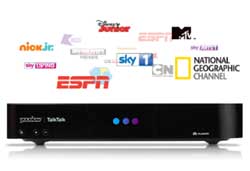 TalkTalk TV is the cheapest triple-play TV, broadband & phone option for UK homes that need to pay more for such packages when taken from Sky, BT or Virgin Media.
TalkTalk TV was launched much later than its rivals, however, the service has become quite popular, thanks to the huge take up in the last two years and good customer satisfaction levels reported by the industry regulator Ofcom.
Like BT, TalkTalk TV uses YouView platform to offer its exclusive TV service with its broadband packages. With its two TV packages which offers limited TV channels, you can add TV boosts with extra subscription
TalkTalk TV bundles
You can choose from two TV bundles which you can customise with broadband speeds you need – either standard (11Mb) or fibre (35Mbps/up to 63Mbps).
Again, there are only PAYG calls with bundles means you can add call boosts that suit your phone needs.
TalkTalk TV package includes Fast broadband or Fibre broadband, PAYG calls and more than 80 Freeview channels, including 15 HD channels. Contract length will vary depending on the broadband package you choose.
With TalkTalk TV, you get free, pause & rewind live YouView TV box.
TalkTalk TV Plus offers similar features, however, you get YouView+ box which can record up to 185 hours of TV along with pause & rewind functionalities. TV Plus pack also includes 6 Sky Entertainment channels along with 80+ freeview channels.
Features of TalkTalk TV packs
Cheapest TV bundles can help you save money
Option to choose YouView or YouView+ TV box
Option to choose fast broadband or fibre broadband with TV bundle
Extra channels can be added or removed every month
Best on-demand players iPlayer, ITV Player & All4 available for catch up
You can rent movies from TalkTalk store from just £4
Prices won't increase during the contract term
Contract terms are flexible – you can choose from 12, 18 and 24 month contracts.
Boosts or Extras
Calls
Unlimited UK mobile & landline calls or international call plans can be added to your basic package
Internet security
You can subscribe for online security software that can be used to protect up to 8 devices
Fibre broadband upgrade
TalkTalk TV packages come with 11Mb Fast broadband as standard, however, you can take up Faster fibre (35Mb) or 63Mb fibre at any time, by adding the boost.
TV boosts – extra channels you can add
You can add your favourite channels or just remove them every month.
Entertainment channels include Sky 1 & 2, Sky Living, Nat Geo Wild, MTV and more.
Kids TV boost include 200+ TV shows including the popular channels like CN, Disney on demand and Peppa Pig.
Sky Sports includes all Sky sports channels which allow you to watch F1, rugby, international cricket and foot ball events and all 4 golf majors.
Sky Cinema boost offers access to 11 Sky Cinema channels, 1000+ on demand movies and a new premiere every day.
TalkTalk fibre broadband with TV
You can pick a triple-play bundle that includes fibre broadband, calls and TV packs from TalkTalk which offers two TV deals.
You can just choose the basic TV which includes YouView box which comes with pause and rewind feature.
By contrast, the slightly more expensive, Plus TV includes extra Sky channels and YouView+ box with additional recording feature.
Benefits and extras
TalkTalk offers free wireless routers and free connection worth £25 to new customers.Parental controls (HomeSafe), free Mobile SIM and free anti virus for device are included.
Fair usage policy
Totally unlimited usage applies to all packages.
However, connection may be slowed during peak time (3pm – midnight) if users exceed fair usage.
Only P2P traffic will be managed during these hours.
TalkTalk broadband reviews
TalkTalk deals are indeed suitable for families that are looking our for the best and cheapest broadband and phone offers. The 'boosts' just help users to add call plans and TV channels flexibly, without committing for a long time. Line rental saver is another great option to cut the cost.TalkTalk gained good ratings for best value for money, reliable service and best security features in 2012. The poor customer service which was the mark of TalkTalk between 2009 and 2011 due to billing and other issues, has improved significantly in 2012 after the measures taken by the ISP.
About the company
TalkTalk is currently the fourth largest fixed broadband provider after BT, Virgin Media and BSkyB and offers its broadband (ADSL 2+ and fibre) and phone service via its LLU (local loop unbundling) network.
TalTalk, the demerged company from the Carphone Warehouse, also includes the customers from the old Tiscali broadband provider.
Talk Talk has been offering broadband and phone service for nearly a decade. Unbundling thousands of BT exchanges, it has over 94% of coverage in the UK.
You can contact TalkTalk on 0808 252 0069.