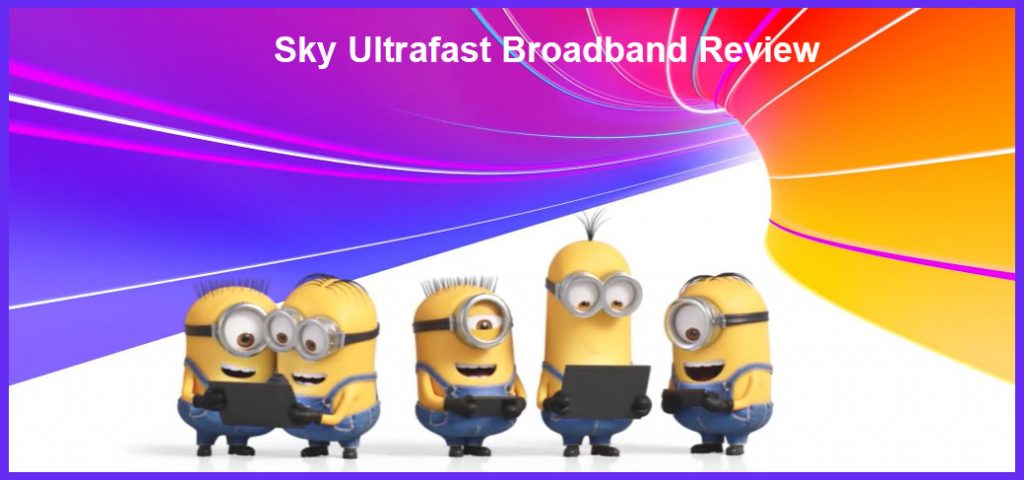 Our Rating 4/5
What is Sky Broadband Ultrafast?
Ultrafast broadband refers to high speed fibre services which provide 100Mbps+ speeds and Sky Broadband Ultrafast offers an average download speed of 145 Mbps.
Sky ultrafast broadband is more than three times faster than the regular fibre (FTTC) broadband which offers an average download speed of 35Mbps to 38Mbps.
When compared to Sky Broadband Superfast service which offers average speeds of 59Mbps, Sky Ultrafast broadband offers more than two times faster speeds using the advanced GFast technology.
Packages
Monthly cost
Setup cost
Broadband Ultrafast
(145Mbps)
£33
18 month contract
£0
Broadband Ultrafast Plus
(500Mbps)
£43
18 month contract
£0
Offer:

Free setup + £100 voucher till 11th November 2021
How fast is Sky ultrafast broadband?
Sky offers two ultrafast broadband deals and each comes with different speeds.
The starter level Sky Broadband Ultrafast comes with an average download speed of 145Mbps and an average upload speed of 27Mbps.
Sky Broadband Ultrafast Plus offers average download speeds of 500Mbps and average upload speeds of 60Mbps.
By comparison, Sky's standard fibre package (Sky Broadband Superfast) comes with an average download speed of 59Mbps and an upload speed of 16Mbps.
| | | |
| --- | --- | --- |
| | Average download speed | Average upload speed |
| Broadband Superfast | 59Mbps | 16Mbps |
| Broadband Ultrafast | 145Mbps | 27Mbps |
| Broadband Ultrafast Plus | 500Mbps | 60Mbps |
Sky ultrafast broadband deals
Sky Broadband Ultrafast is ideal for connecting multiple devices, online gaming and HD & 4K streaming. With download speeds of 145Mbps, a 5GB file can be downloaded in just 4 minutes.
Sky Broadband Ultrafast Plus is more than three times faster than Sky Broadband Ultrafast (145Mbps vs 500Mbps). The lightning speeds of Ultrafast Plus are great for super busy households with lots of devices need to be connected simultaneously.
Ultrafast Plus is recommended for online gaming and 4K streaming as high speed connectivity ensures best experience and reliability. Ultrafast Plus speeds (500Mbps) will just download a 5Gb file in just 90 seconds.
Is Sky ultrafast broadband available in my area?
Sky ultrafast broadband has limited availability and it is being rolled out across the UK so its availability depends on your location.
Currently, 25% of the UK homes can get Sky Broadband Ultrafast (145Mbps) while the Ultrafast Plus (500Mbps) is available to 16% of UK households.
You can check the availability using our broadband postcode checker tool.
Sky ultrafast broadband router and installation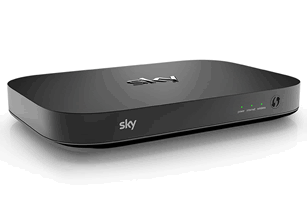 Sky ultrafast broadband packages include Sky Broadband Hub which is designed for high speed GFast fibre broadband and is capable of handling 100Mbps+ speeds.
The Sky Broadband Hub or Sky Q Hub 2 (SR203) comes with 4 gigabit connections, 8 antennae and a built-in G.fast modem and can handle the WiFi speeds of up to 2Gbps.
Sky broadband Hub is easy to setup and using the Sky App, the customers can manage the Hub and the connected devices.
Sky also offers Booster (SE210) to fix the issues of blackspots and enable all the devices get faster speeds in different rooms.
Features
Sky ultrafast broadband and Talk
Sky ultrafast broadband includes PAYG calls. Ultrafast Plus customers can make internet calls. You can add suitable call plans in case you need.
Equipment
Sky ultrafast customers get the latest Sky Q Hub 2 router as and optional Booster devices are also provided to improve WiFi speeds.
WiFi Guarantee
Sky Broadband Boost subscription which costs £5 a month offers WiFi Guarantee for faster speeds in every room or you can claim money back.
Sky broadband boost also guarantees reliable connectivity and the connections are checked on daily basis. Sky also arranges engineer visits at anytime when needed.
Sky Ultrafast Broadband and TV
You can add Sky TV packages which include Sky Sports, Sky TV channels and Sky Cinema and a wide selection of entertainment channels.
Is Sky Ultrafast any good?
Sky broadband is highly rated for the customer service and reliable connectivity & speeds.
According to Ofcom report May 2021, 80% of Sky broadband customers are happy with the service and the speeds.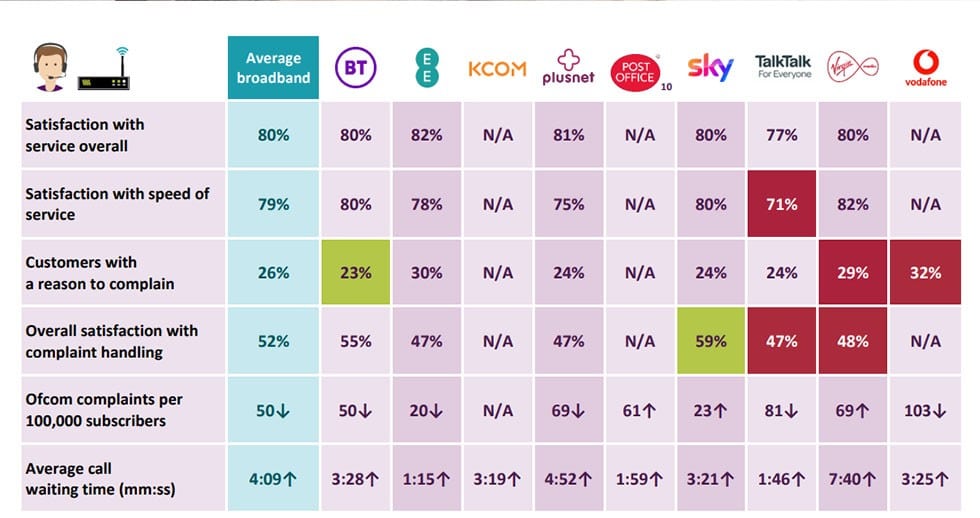 As per Ofcom complaints report, Sky generated the least number complaints in Q3 2020 which means Sky broadband services offered better quality of connectivity and customer service than other providers.
What we liked:
Ultrafast speeds at competitive pricing
Speed Guarantee or money back
The latest Sky Broadband Hub
High Quality customer service
Bundling with home phone and Sky TV
Free extras like Sky public WiFi
What you need to know:
Limited availability
When compared to Virgin Media ultrafast broadband which is available to more than half of the UK homes, Sky ultrafast broadband is just available to 25% of the homes.
Frequently Asked Questions
Is Sky ultrafast broadband full fibre?
Sky has two ultrafast packages and each one is delivered via different technology.
Sky broadband ultrafast (145Mbps) is not fully fibre in technical terms, as the service uses the next generation G.fast technology to boost the speeds of hybrid network (FTTC) of fibre and copper to the optimum level.
However, Sky Ultrafast Plus (500Mbps) provides full fibre broadband connection (fibre to the premises) with minimum guaranteed speed of 400Mbps.
Does Sky ultrafast broadband come with home phone?
Sky broadband ultrafast comes with landline and PAYG calls. You can upgrade it to anytime calls or add international calls.
However, the full fibre Ultrafast Plus does not need landline and offers VoIP based home phone service.
Related