Last updated on April 14th, 2021 at 05:20 pm
Price: £29.95 a month. Free setup
145 Mbps download
25 Mbps upload
Unlimited downloads
PAYG calls
Monthly: £29.95
Upfront: £0
Total contract: £539.10
18 month contract
Why do you need Fibre 150?

Fibre 150 delivers speedier and more reliable connection than the usual fibre broadband connections
Fibre 150 is ideal for homes with several users to be online, especially for streaming and gaming.
TalkTalk offers the cheapest, ultra-fast service with the lowest price which is fixed for 18 months.
Features
Ultra-fast download speeds

Fibre 150 comes with an download speed of 145 Mb/s which is ideal for 4K streaming and online gaming. More than 10 devices can be connected at the same time to stream and play the latest games without any hassle.
WiFi Hub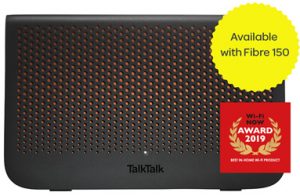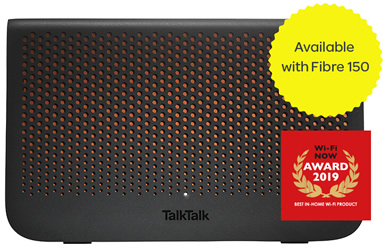 The latest WiFi Hub Black is included. It's a dual band router which comes with 7 antennae, 4 Gigabit connections, 802.11 a/n/ac WiFi, integrated firewall and WPA2 / WPA / WEP security.
SuperSafe Online Protection
Fibre 150 includes free SuperSafe Boost which offers online protection to 10 devices including laptops, tablets, smartphones, iPhones and iPads from viruses, phishing, malicious websites and malware. Also includes password manager to help you save securely all your passwords.
TalkTalk TV bundles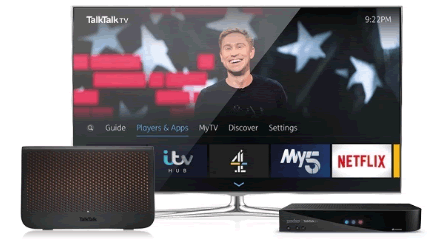 You can add pay TV from TalkTalk at the lowest price. It's cheaper than Virgin Media and Sky TV plans.
General Features
Totally unlimited usage: No speed reduction during peak times, Absolutely no data caps.
Pay as you go calls included
No setup cost
Fixed price guarantee for the entire contract term and no mid-contract price hikes
More deals from TalkTalk