Latest BT broadband and phone deals
BT Unlimited broadband

Unlimited

 

usage




upto

 

17Mb

 

speed




Weekend

 

calls

£23.99 p/m




18 month contract


Total contract cost: £441.81
More Info

Offer:

£50 BT Reward card.Ends 26th April
BT Infinity unlimited broadband

Unlimited

 

usage




up to

 

52Mb

 

speed




Weekend

 calls


£35.99 p/m




18 month contract


Total contract cost £647.82
More Info

Offer:

£120 BT Reward card.Ends 26th April
BT Infinity 2 unlimited broadband

Unlimited

 

usage




up to

 

76Mb

 

speed




Weekend

 

calls

£45.99 p/m




18 month contract


Total contract cost £827.82
More Info

Offer:

£130 BT Reward card.Ends 26th April
BT Essential TV + unlimited broadband

Unlimited

 

usage




up to

 

17Mb

 

speed




Weekend

 calls
94 TV channels


£29.99 p/m




18 month contract


Total contract cost £599.81
More Info

Offer:

£60 BT Reward card.Ends 16th April
BT Starter TV + unlimited Infinity broadband

Unlimited

 

usage




up to

 

52Mb

 

speed




Weekend

 calls
105 TV channels


£39.49 p/m




18 month contract


Total contract cost £770.81
More Info

Offer:

£120 BT Reward card.Ends 26th April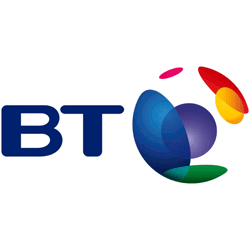 Not only BT has wider coverage than any other UK provider,  the ISP has also made a lot of upgrades over the years to enable its network to offer up to 17Mbps service to more than 94% of homes in the UK.BT has also hooked up 90% of the premises in the UK to its super-fast, fibre optic network (Fibre to the Cabinet).
BT has more than 9m broadband customers and nearly 2m TV customers, according to  Q4 2016 report. Its Infinity subscriber base is all set to hit 5m in 2017.
BT broadband users are offered award-winning Home Hub wireless routers (Hub 4 and 5) and BT Sport entertainment as freebies. The new, super WiFi Smart Hub (Home Hub 6) is now bundled for free with Infinity packages.
Its biggest chain of public WiFi hotspots across the UK is also free to use, if you are a BT customer. Only BT broadband customers can exclusively get BT TV  while BT SmartTalk is app for mobile users to make cheap phone calls via WiFi.
BT broadband packages
Standard, up to 17Mb broadband
Delivered via BT's faster copper network (ADSL 2+), called as 21CN, this service offers maximum download speeds of 17Mbps and includes a few packages tailored to suit the needs of the customers.
There are two ADSL 2+ packages that BT offers. The starter level package which is the cheapest of all – Broadband – comes with 12 GB monthly usage allowance and without any free call plan.
Unlimited  broadband & Weekend calls offers  totally unlimited  usage as BT has its own policy of not meddling with speeds even while  browsing at peak times.
BT Infinity broadband packages(up to 52Mbps/76Mbps)
BT Infinity packages now come with 'up to 52Mbps download speed as standard, while faster Infinity 2  broadband offers 'up to' 76Mbps speed and  faster upload speed of 19Mbps.
Infinity 1 deals allow you to choose 25GB capped broadband with PAYG calls or totally unlimited usage with inclusive weekend calls.
New customers will get UK's fastest , the next generation WiFi router BT Smart Hub for free and also get cloud storage of up to 100GB and online protection.
BT Infinity superfast broadband is delivered to homes using superior fibre optic technology. Our broadband availability checker can help you find out which of BT's fibre products are available in your area and their latest prices.
BT TV packages
BT TV bundles offer a great range of packages – Starter, Entertainment Plus and Total Entertainment – with options to customise broadband, calls and TV channels (150+) as many ways as you wish.
It's up to you to choose superfast, Infinity fibre broadband or anytime calls or Sky Sports or Movies.
All TV packages include free BT Sport Europe.
All the 'up to' 17Mb broadband only, dual (broadband & phone) and TV bundles come with free activation, Home Hub 4 WiFi router and options to add BT Sport
Add BT Mobile to broadband packages at cheaper price
BT Broadband customers can get a £5 discount on the new BT Mobile plans. There are three 4G SIM Only tariffs available starting at £5 per month (including discount) and new Broadband customers can add a BT Mobile SIM card to any package during sign up.Otherwise BT Mobile SIM Only will cost from an £10 a month for non-BT customers.
Full details below:
BT 4G SIM Only plans
Monthly price /
BT customers
500MB data
200 minutes
unlimited texts
£5
2GB data
500 minutes
Unlimited texts
£10
15GB data
Unlimited minutes
Unlimited texts
£20
BT Sport TV
BT offers its own Sports TV service which can be accessed via online player on your PC or laptop or Mac or via BT Sport app on tablets and smartphones. BT Sport which includes four sports channels comes free with all broadband packages.If you have added BT TV to Infinity package, you can watch BT Sport on bigger screen via YouView+ box. If you are not a BT customer, but have a Sky satellite receiver box, you can still access BT Sport with an additional fee.
Apart from Scottish Premier League, FA Cup with Budweiser and WTA tennis live matches, BT Sport also offers some exclusive live shows such as Barclays Premier League matches and Aviva Premiership Rugby matches.
BT Broadband Extras
Free BT WiFi
BT runs more than 5 million public wifi hotspots in the UK and 7 million outside the UK and as a value added service, BT offers unlimited public wifi to its broadband customers at no extra cost.
BT broadband and Infiity customers can make free use of BT WiFi at these locations to go online while traveling inside UK or abroad.
BT Cloud Storage
BT Cloud is free online storage for BT customers so they can back up important files and personal content like photo albums. BT offers 5 GB free online space to customers of Broadband, Unlimited and Infinity 1 while Unlimited broadband extra and unlimited Infinity 2 packages come with up to 500 GB free storage.
BT SmartTalk
To help BT home phone users save money on mobile calls, BT offers free BT SmartTalk app. You can make mobile calls to landline numbers such as 0800, 0845 and 0870 numbers via SmartTalk at BT call rates, hence,  cheaper than standard mobile call rates.
BT Parental Controls and BT Virus Protect
With all packages, BT offers free parental controls for safer browsing. You can block harmful & inappropriate websites on your devices and also customise the settings as you wish.
BT Virus Protect  includes firewall, anti-phishing, anti-virus and anti-spyware protection for up to 15 devices.