BT broadband is available wherever one lives, thanks to its extensive network which has connected millions of homes, even in rural and remote areas.
The biggest provider of home phone and fibre broadband in the UK, BT also offers digital TV and 4G mobile services.
Plus, BT operates a separate section for its business customers.
When it comes to home broadband deals, BT bundles them with great features like ultra-fast speed plans, Smart Hub WiFi router, free cloud storage and BT Sport TV.
BT Broadband and Fibre packages
Varying mainly in download speed and network type, BT services are available as follows:

50Mb average speed
Unlimited downloads
PAYG calls
Offer: £60 Gift card
Cost: £27.99 p/m
More Info

67Mb average speed
Unlimited downloads
PAYG calls 
Offer: £120 Gift card
Cost: £31.99 p/m
More Info

67Mb average speed
Unlimited downloads
PAYG calls
170 TV channels 
Offer: £120 Gift card
Cost: £41.99 p/m
More Info
Varying mainly in download speed and network type, BT services are available as follows:
BT Superfast Fibre Essential
This is low cost fibre option from BT with an average download speed of 36Mbps. The plan offers superfast speeds so you can watch HD videos, TV shows or play online games
BT Superfast Fibre
This offers totally unlimited broadband with 50Mbps average download speeds. Ideal for homes where 3 or 4 devices can stream videos or make downloads. Includes BT Virus Protect online protection for 2 devices.
BT Superfast Fibre 2
It offers ultra fast speed of 67Mbs to BT users. Suitable for big households. Many devices can be connected at the same time and can do anything like HD streaming or gaming online. It comes with additional cloud storage as well as BT Virus Protect for 15 devices.
Broadband Unlimited
This is entry level package with 10Mb average download speed and inclusive weekend calls. Totally unlimited usage. Cheaper and cost effective, it is suited for light users or small households.
Features
Speeds
Alongside standard broadband, BT offers a wide range of fibre broadband packages. Standard packages come with 10Mb download speed, while BT fibre optic broadband offers superfast speeds between 36Mbps and 67Mbps.
Totally Unlimited
All BT packages offer totally unlimited downloads. No slow down during peak times.
Free hardware
Standard package includes Home Hub 4 wireless router, while fibre packages are bundled with the latest Smart Hub wireless router.
Pay as you go calls
BT broadband includes pay as you go calls as standard. Various call plan options are available to add and customise to suit your needs.
Free extras
BT customers get free access to 5m public BT Wi-fi hotspots across the UK, free cloud storage of up to 500GB, parental controls, free access to BT Sport on mobile and mobile based BT SmartTalk app.
BT TV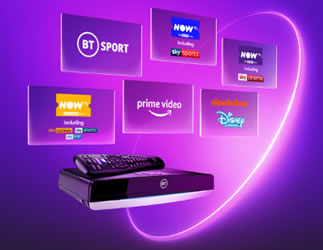 Offering 100+ digital TV channels, BT TV includes YouView box or YouView+ box which allows you to watch, pause, record and rewind TV channels.
Alongside Freeview channels and free BT Sport, you can add more premium channels like Sky Sports and Sky Cinema. 7 days catchup feature allows you to watch TV shows you missed earlier.
BT Sport allows you to watch top four events such as live Premier League football, UEFA Champions League and Aviva Premiership rugby,
There are three TV packages – BT Starter, BT Entertainment and BT Max 4K
With Entertainment and Max 4K TV packs, you can record up to 300 hours of live TV shows. Max 4K offers some premium channels and BT Sports in ultra HD, 4K resolution.
BT Phone
BT Phone is included with all broadband packages and you can make pay as you go calls. It also offers other features like free calls to 0845 and 0870 numbers and caller display.
However, BT Phone also offers other call plans to upgrade – evening & weekend calls and anytime calls.
Alongside these call plans, there are also add-ons available for making international phone calls at cheaper call rates.
BT also offers BT Basic, a subsidised social phone plan for low income homes. There is also Home Phone Saver package for families that want to cut home phone bills and save money
BT Mobile
This is 4G based, superfast mobile service from BT. It offers a great range of 4G SIM only plans. Furthermore, its broadband customers get discount when they bundle a mobile plan, thus saving money.
Switching to BT
You will need to choose the package that's suitable for you. Setup may need engineer visit which will be informed by BT switching team.
With standard service, you will just need to connect the Hub which will be sent to you via post. However, fibre installation would need engineer who would activate the service on a date informed to you.
After activation of the line, the Hub needs to be connected to get internet access.