Last updated on June 10th, 2021 at 01:19 pm

Price: £22 a month. Free setup + £50 voucher till 16th June 2021
38 Mbps download 
9 Mbps upload
Unlimited downloads
PAYG calls

Monthly:
£22
Upfront:
£0
Total contract:
£396
18 month contract
Features
Speed
TalkTalk Fibre 35 is more than two times faster than standard broadband. Average user speed of 38Mbps means 50% of its customers can get this speed from their end.
You can connect more than 4 devices at the same time, stream HD TV shows, make faster downloads and play online games.
According to Ofcom's annual broadband speed report released in 2020, TalkTalk Fibre 35 delivered following real-world speeds between 32.8 Mbps to the users during peak times (8pm – 10pm)
Totally Unlimited
No traffic management applies. No data caps. TalkTalk does not slow down speeds at anytime.
New WiFi Hub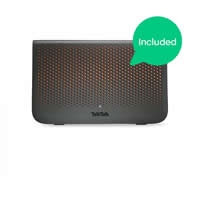 The latest WiFi Hub Black which is two times faster than the old Super router is included for no extra cost. It comes with 7 antennas, 4 gigabit connections and great security features. Up to 50 devices can connect to WiFi at the same time.
Guaranteed Speeds
Not happy with service? 30 days great connection guarantee allows you try the service for 30 days and to cancel the service without any exit fee, if you are not satisfied.
No mid-contract price rises
Fixed price guarantee ensures no price rises for the whole contract. Fixed Price Plus allows you to get the same deal at a fair price when you renew the plan.
Extras
Talk2Go App for your mobiles, so you can make cheaper calls using your landline minutes; No need to use expensive mobile calls but use phone calls on your mobile devices when you are on the go. Installed on smartphones or tablets, Talk2Go WiFi app could help you save your money on calls, whether your are in the UK or abroad.
HomeSafe parental controls and internet security for the entire family safer browsing.; HomeSafe includes parental controls to block unsuitable websites and anti-virus protection for all your devices.
SuperSafe boost offers enhanced internet security to all devices from malware, viruses and other threats.
Callsafe feature on your home phone allows you screen all the calls so you can block the unwanted calls.
Is TalkTalk Fibre 35 broadband any good?
As per Ofcom's annual report 2020 on customer satisfaction, 78% of its customers were happy with its service quality. TalkTalk broadband complaints reached 87 per 100,000 customers in Q1 2020
Although, TalkTalk is slightly behind Plusnet, Sky and Virgin Media, when it comes to quality, performance and customer service, it offers cheaper, fibre optic broadband deals, when compared to these competitors.
It's pricing is unbeatable and its fibre & broadband packages including Fibre 35 score well for value for money.
As we mentioned earlier, this entry level fibre package indeed , draws a nice balance between superfast speeds, decent performance and low pricing.
More deals from TalkTalk
Summary
Reviewer
Review Date
Reviewed Item
Author Rating
Product Name
TalkTalk Fibre 35 Broadband