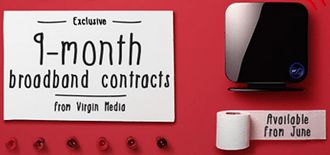 Virgin Media offers
30 day rolling  contracts to students
who need broadband at university and student houses only during term-time.However, the deals come with one-off installation fee of £20, whether you opt for stand-alone broadband or broadband & phone bundle or broadband, homephone and TV collections.
Latest Virgin Media Student Broadband Deals and Prices
Deal
Details
VIVID 200 Fibre Broadband


Offer:

 1 month contract


Monthly Price:

£40

213Mbps (average)
Unlimited data
No line rental

VIVID 350 Fibre Broadband


Offer:

  1 month contract


Monthly Price:

£45

362Mbps  (average)
Unlimited data
No line rental

VIVID 50 + Weekend calls


Offer:

  12 month contract


Monthly Price:

£27

54Mbps  (average)
Unlimited data
Weekend UK calls
Unlimited, superfast broadband
Fibre optic broadband from Virgin Media which can offer 4 times faster speeds than the regular ADSL broadband is a great way to get the best value for your money, especially when you need to share broadband with others or download & upload huge volumes of information online or when multiple devices are used to access the internet simultaneously.
Features
Virgin offers average speed of 54Mb/213Mb/362Mb and you can bundle broadband  with phone or TV or both TV & phone. You can also choose just broadband, without Virgin phone or TV.
54Mbps speeds will enable you to download a DVD movie (5GB) in less than 20 minutes and you will need just half of these minutes to download the same movie at 108Mbps speeds.
Next generation broadband from Virgin Media not only offers superfast speeds but also comes with unlimited usage.
What's more, Virgin student packages are not subject to any fair usage limit means you can download unlimited amounts of data or music or movies without incurring any hidden charges.
However, your download speeds may be slowed down at peak times, when your downloads or uploads exceed the thresholds set by Virgin's traffic management policy which applies to usage only during peak times.
To avoid being hit by peak time restrictions, Virgin advises that heavy downloaders use off-peak times for downloading large files or movies.
Fast wireless broadband via Virgin Media Super Hub
You can connect wifi enabled devices such as laptops, tablets, smartphones and games consoles to the web using Virgin Media Super Hub wireless router. Offered free of cost with broadband packages, Super Hub is dual band, wireless N router, capable to handle speeds of up to 120Mbps.You can get the new, dual band, Super Hub which is more than 3 times faster than the original Hub and can handle speeds of up to 450Mbps at no extra cost, when you subscribe to any 100Mb broadband package.
Digital TV and HD channels
Virgin offers more than 240 channels and 32 HD channels with 1 TB Virgin V6 box, when you combine TV packages with fibre broadband of your preferred speed – 54Mb or 108Mb or 213Mb or 362 Mb..
If you want to add phone too, Virgin offers triple-play packages that include 100+ channels, Talk Weekends and 54Mb/108Mb/213Mb/362Mb broadband.
Talk Weekends
You can make free calls to UK landlines ( 01, 02 and 03), 0870 numbers and Virgin Mobile numbers during Saturdays & Sundays. Usual call charges will apply when a call exceeds 60 minutes. You can hang up and redial before 60 minutes to enjoy free call rates.