Connections of tens of thousands of people who are using insecure wi-fi broadband can be easily hacked to share copy-righted material over internet, UK's fixed broadband provider TalkTalk has warned.
New laws to be proposed by the government treat illegal filesharing of music and films over internet as offence and the owners of the networks/connections could face heavy fines or even disconnection, if they are found guilty.
Hackers make the best use of wi-fi networks that are not tweaked to maximum security levels, the study shows. More than twenty percent of homes that use wireless networks have not installed all the basic and advanced security features like firewall and WPA2 encryption, according to the findings.
If you are using older router or any outdated wireless device, it is time that you buy a new router that may cost around £70 or replace the wi-fi card on your old laptop for better security, the leading broadband and phone service  provider has advised.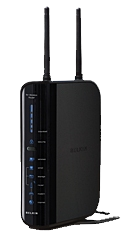 What happens, if someone hacks your connection while you are browsing on your laptop in a public wi-fi hotspot. To prevent this, make sure that you use a good firewall, strong password (use alpha-numeric with two capital letters and any two special characters like *, $,# etc.) and wireless encryption like WPA2.
Make sure that your system has no malware like virus or spyware.
 Regular checking of your usage will also help you to be more alertful.