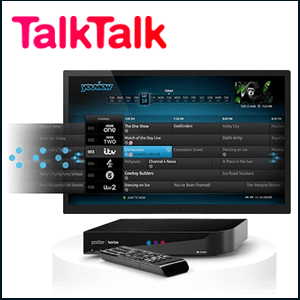 TalkTalk offers a simple range of broadband packages which allow you to choose the right deal with or without inclusive calls.
TV bundles which come with unlimited broadband are bundled with freeview channels plus flexible TV boosts including Sky Sports, Sky Cinema, premium entertainment channels and Kids.
Why choose TalkTalk?
TalkTalk offers high speed broadband with totally unlimited usage and triple-play TV bundles at unbeatable prices.
Totally unlimited usage ensures your speeds and data usage never get affected at any time including peak times of network congestion
TalkTalk bundles advanced Super Router with the latest WiFi ac feature and very advanced security standard for faster, more reliable and more secure home WiFi.
You get HomeSafe parental controls to protect all devices and your family from harmful, online contents and malware such as virus.
TalkTalk offers low-cost fibre packages with free connection.
TalkTalk TV is a great entertainment feature that you can add to your broadband.
TalkTalk TV packages come with the latest YouView+ box and are affordable and much cheaper than Sky TV or Virgin TV bundles. There are flexible options to add your favourite TV packs without any need to commit for long contracts.
How good is TalkTalk broadband?
Ofcom May 2018 report showed 72% of TalkTalk customers were happy with quality and reliability of TalkTalk broadband service.
However, more number of TalkTalk landline customers (83%) were satisfied with home phone quality, according to Ofcom survey.
Broadband speed report by Ofcom for 2017 showed that TalkTalk standard broadband (11Mb) delivered average speed of 8.6Mbps during peak times.
TalkTalk Fibre Medium (36Mbps) customers could get average speed 32.3Mbps during peak times.
TalkTalk  speed booster package (63Mbps) offered the real world speed of 52.8Mbps during peak hours.
Over-all, TalkTalk delivered slower speeds when compared to its rivals like BT, EE and Plusnet.
What does TalkTalk offer?
TalkTalk offers standard and fibre broadband plans which you can buy with or without TV packs. Basic package includes line rental while you can add call plans like anytime calls.
TalkTalk Fast Broadband
It is one of the best, cheapest standalone broadband options for anyone who looks out for high speed broadband plan at budget price. This plan includes totally unlimited broadband usage and PAYG calls.
TalkTalk TV with Fast Broadband
This TV bundle is an affordable choice for homes. It includes unlimited broadband, HomeSafe and Youview TV pack which 80+ channels, catch up TV, on demand movies and more. YouView box is included for no extra cost.
TalkTalk TV Plus with Fast Broadband
This top-end TV bundle comes with additional features, extra premium TV channels etc. With unlimited broadband ,  TV Plus  package is suitable for families that demand more entertainment,  stream videos and play online games.  Plus TV includes YouView+ box which can record and store live shows, while you are watching your favourite channels.
TalkTalk Superfast Fibre Broadband
TalkTalk is one of the cheapest fibre broadband providers in the UK, offering in a price range which is as affordable as standard broadband packages.
TalkTalk Faster Fibre offers 36Mb average speeds which is two times faster than typical connection.
TalkTalk Faster Fibre with speed boost is ultra-fast service offering average speeds of 63Mbps and is suitable for heavy internet users.
Fibre users can get the best out of their connections using the latest Super Router which comes with better wireless range and faster wifi speeds.
TalkTalk Home Phone
TalkTalk allows you to make free calls to other TalkTalk customers, even, on all packages including Fast Broadband or Faster Fibre.
All packages include pay as you go calls (PAYG) so you would pay only for the calls that you make.
You can add calls – anytime, mobile and international – for extra subscription that best suits your needs and budget.
Flexible, call boosts are available to help you meet your needs.  International and mobile call boosts which come with discounted call rates are not subject to any contract. You can cancel them at any time.
TalkTalk TV
TalkTalk TV is not available as standalone but as a part of triple play packages that include broadband, phone and TV.
Two TV packages are available – TalkTalk TV and TalkTalk TV Plus which you can combine with standard or fibre optic broadband. The YouView based TV service has now added Sky channels, Blinkbox movies and Netflix means customers get more choices when it comes to TV entertainment.
Our view and review of TalkTalk
TalkTalk is hugely popular for their low cost broadband and phone bundles. Despite their poor customer service, it still remains a budget provider for many households in the UK, offering the best value for money to its customers.
Not only its Fast broadband, fibre and TV deals are available in affordable pricing, the big discounts & vouchers it offers with new subscriptions have made TalkTalk one of the cheapest broadband providers in the UK market.
Summary
Reviewed by
Date
Provider/Deal
Rating