Last updated on January 23rd, 2021 at 05:24 am
BT Superfast Fibre is fibre package that comes with superfast speeds for streaming TV in HD and for other bandwidth hungry applications like online gaming.
Along with unlimited data usage and PAYG calls, the plan comes with extras like free public WiFi, web storage and parental controls, thus, offering the best value for your money.
Speeds
Faster, more reliable speeds
BT Superfast Fibre broadband is more than three times faster than standard, ADSL connections means you can do better when it comes to internet activities which require high bandwidth and speeds, whether it be regular surfing or downloading albums & movies or playing superfast games or streaming TV shows in HD .
No slow down during peak times
Superfast Fibre is truly unlimited meaning not traffic shaping applies
BT promises that you get faster speeds all the time during day or night without any slow down even at peak hours.
Guaranteed speeds
BT fibre broadband plans include Stay Fast Guarantee means BT would make sure that you get reliable, optimised speeds all the time or you can claim £20 back, if your speeds go below the minimum guaranteed speed set for this package.
Ofcom broadband speed report 2019
It has been estimated that average user (50% of the customer base) can get download speed of 49Mbps and upload speed of 9Mbps.
The service also performed well in Ofcom broadband speed survey conducted in November 2018. Real-world speeds ranged between 41.Mbps and 48.3Mbps, according to the regulator's report.
BT Superfast Fibre Broadband Deal
Average speed


50Mbps download
9Mbps upload
Add BT Sport pack
Unlimited broadband
Free Smart Hub wireless router
PAYG calls
£9.99 setup cost
200GB free cloud storage
24 month contract

Offer

: £70 Gift card. Ends 28th January 2021

Offer price:

£27.99 a month for 24 months (including line rental)
Features
Totally unlimited broadband
Capped broadband usage could often leads to hefty bills, whenever your usage exceeds the monthly allowance limit. Even when you switch to unlimited plans, all of them may not be truly unlimited to offer you unrestricted data usage as there could be hidden limits which you may not be aware of.
But with BT, you get totally unlimited broadband without any hidden limits means you can download as much as you wish.
Pay as you go calls
You can make PAYG calls whenever you need. You can add call plans that suit your needs.
Free parental controls
BT Superfast fibre 1 unlimited package includes online protection for your kids with free parental controls which allow you to block unsuitable sites. BT Virus Protect enables you to protect devices and files from viruses and malware etc.
Free cloud storage
With 200GB free web space, you can store all your personal data and albums at a secured place.
BT Smart Hub wireless router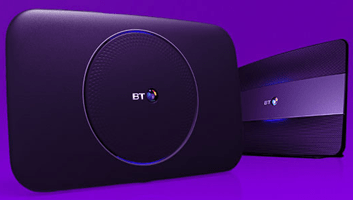 BT Smart Hub is one of the best ever wireless routers that you can rely on for superfast speeds, reliable and secured connectivity, when you share fibre broadband at home.
Built with the latest wifi standard and technology, Hub 6 features dual-band modes, enhanced wireless range, faster WiFi speeds with minimum wireless interference and advanced wireless encryption for secured connection.
Find out more information on our BT Smart Hub Review
Complete WiFi
The new Complete WiFi feature enables you to get stronger and speedier WiFi in every room of your home, using WiFi discs. This feature would cost extra.
Free unlimited WiFi via BT WiFi hotspots
No need for mobile internet, when you are near a BT WiFi hotspot. BT offers free WiFi to its customers at more than 5m locations across the UK.
Summing-up
BT Superfast Fibre ofers reliable service, speeds with excellent specs. Super-strong Smart Hub and free public WiFi offer great value for money.
On the negative side, the plan is not cheap as you can find similar packages from Plusnet and TalkTalk at lower price point.
The 24 month contract also needs to be considered before you switch to this plan.
Summary
Reviewed by
Date
Provider
Rating
Package
BT Superfast Fibre Broadband