BT Wireless Home Hub 2
is a
wireless router
that uses advanced Wireless N standard. This excellent ADSL 2 wireless router is the improved version of BT's previous Home Hub wireless router.
It comes free when you subscribe to BT Total broadband Option 3. Other BT broadband customers (Option 1 and Option 2) will need to pay £45 for this router. BT wireless Home Hub 2 can be used for both wired and wireless connectivity.
Easy to install and use features
BT Wireless N Home Hub router is not only easy to use, it is also easy to setup. BT has configured most of the settings including the security features, so, there is no need to meddle with the settings. Just use the CD and user guide provided by BT and follow the simple instructions to help you through the setup.
Main Features
BT Wireless Home Hub 2 router has built-in modem to connect you to BT broadband. As this router is preconfigured by BT, you cannot use it with other broadband services.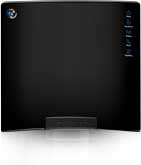 BT Wireless Home Hub 2 is based on Wireless N (802.11n) standard which has the fastest data rate of 248Mbps. Comparing to 'N' standard, wireless G specification enables data rate of 54Mbps while Wireless B based devices come with a maximum data rate of 11Mbps.
Wireless N enabled routers proved to be the best, when it comes to coverage. They do not drop speed over long ranges, so, you get excellent connectivity all over your house hold. Whether indoors or outdoors, they perform much better than 802.11b or 802.11g devices.
BT also supplies a hub phone which you can use with Home Hub N Wireless router and make calls over broadband internet (VoIP).