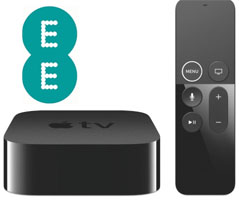 EE has launched new TV service Apple TV 4K which will replace the current EE TV which was available as a part of its triple play bundle to its broadband customers.
According to EE, the Apple TV 4K package includes set top box worth £179 and access to popular streaming websites like BBC iPlayer, ITV Hub, UK TV, Netflix, Prime Video and NOW TV.
Since, EE is a part of BT, its new TV service will allow its customers to watch BT Sport on big TV screen, enjoying all the big sports events live with 4K resolution.
However, customers will require 4K enabled TV with best audio features to enjoy 4K HDR experience with cinematic Dolby Atmos sound, according to EE.
The provider has also revealed the pricing of the new TV service which starts from £37 a month on a 18 month contract and the bundle includes a home broadband plan as well – standard ADSL (10Mbps), Fibre (35Mbps) or Fibre Plus (67Mbps).