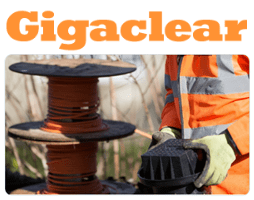 Rural based fibre optic broadband provider Gigaclear announced online discounts of up to £20 a month on its ultra fast broadband packages which will be available to new customers until 30th June 2019.
Along with free installation worth up to £120, the special offers would help new subscribers save more than £400 on the 18 month contract.
Which Gigaclear fibre plans get online discount?
The price cuts apply to Gigaclear broadband packages (Go300 and Go900) which are offered via Gigaclear's FTTP (fibre to the premises) network.
Gigaclear Go300 comes with an average download & upload speed of 300Mbps. New customers can get £120 discount a year as the monthly price is reduced to £35 from £45 for a limited time offer. The promotional code of GO300 needs to be used to get this discount.
Gigaclear Go900 offers an average download & upload speed of 900Mbps. Monthly discount of £20 will apply, when the promotional code GO300 is used. The plan would cost just £55 a month (when subscribed before 30th June), instead of the standard price of £75 a month.
Other benefits
For a limited time, Gigaclear offers free activation and free standard installation that save up to £120 on these packages.
Gigaclear offers full fibre broadband which is also totally unlimited without any traffic shaping or usage caps. Its FTTP network ensures that you get more reliable, faster speeds so you can stream HD & 4K content and connect multiple devices in home.
Gigaclear availability
Gigaclear fibre broadband is available mostly in rural locations, covering around 93k premises as per its latest report. Its rollout, which is in slow progress, could only give 66k UK households access to its GO300 and GO900 services.
The provider is expected to make its FTTP broadband available to more premises by 2021.