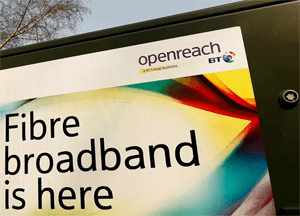 The UK's biggest broadband network provider BT Openreach could switch off the existing copper network entirely and move to full fibre infrastructure by 2017, it has been reported.
While the existing infrastructure includes traditional, ADSL copper phone lines, FTTC (partially fibre) and Virgin Media cable lines, the broadband providers in the UK, helped by government policies on full fibre deployment, are set to increase full fibre (FTTP) roll out that would eventually see the complete migration from copper to fibre by 2027.
The Government is spending £650m on full fibre rollouts until the end of 2021. FTTP (fibre to the premises) will allow the UK homes to get ultra-fast speeds of 1Gbps which is ideal for heavy usage, 4K video streaming and for work places.
There is consultation on the new plan which is underway, with major ISPs including BT, TalkTalk, Sky and Virgin Media are likely to come with a proposal that can address all the relevant issues.
Openreach will soon reveal the outcome of the consultations. It may be today or tomorrow.
It should also be noted that the broadband regulator Ofcom would release the comprehensive details on the final plans by December 2019.
In the UK, other than Openreach based operators, there are Virgin Media and small FTTP providers like Cityfibre, Hyperoptic and Gigaclear which own their own networks and offer ultra-fast services to the UK homes.
Virgin Media already offer superfast broadband across its cable network which has been upgraded to offer up to 575Mbps to its customers. Its network will soon increase speeds to 1Gbps by completing an upgrade by 2021.
Full fibre operators like Cityfibre and Hyperoptic are mostly available in selected UK cities. Their coverage and fibre expansion can hardly meet the requirements of the UK.
If FTTP fully replaces Openreach's existing copper network within the next ten years, this would mean that there will be migration of 95% of the UK premises to ultra fast broadband (100Mbps+) after the removal of the copper lines.